Brand New in my Etsy Store!
eBook Watercolor Seasons Vol2 Summer – Celebrate Summertime in vivid watercolors – Tutorial 50 pages pdf – Easy to follow – step by step
https://www.etsy.com/listing/981290913/ebook-watercolor-seasons-vol2-summer?ref=shop_home_active_1

Use coupon code HAPPYPAINTING20 to save 20% on all items until 2021, March, 22.
These easy-to-follow step-by-step tutorials celebrate the summertime season in vivid watercolors. The practices have a clear structure to guarantee pure watercolor fun for everybody just from the start. Start with easy warm-ups creating impressive and colorful watercolors quick and dive into a more challenging painting project later. Including 4 chapters with step-by-step tutorials, useful tips and hints about art materials and how thumbnail sketches help you to plan your watercolor project, plein-air tips and a gallery with more inspiration for your next summertime watercolors. Happy Painting!
Instant download eBook pdf 50 colorful pages in either english or german version – 4 chapters with easy-to-follow step-by-step watercolor practices, handy information about materials and technique and inspiring gallery. Instant download LowRes version to view directly on your electronic device and printable HighRes version.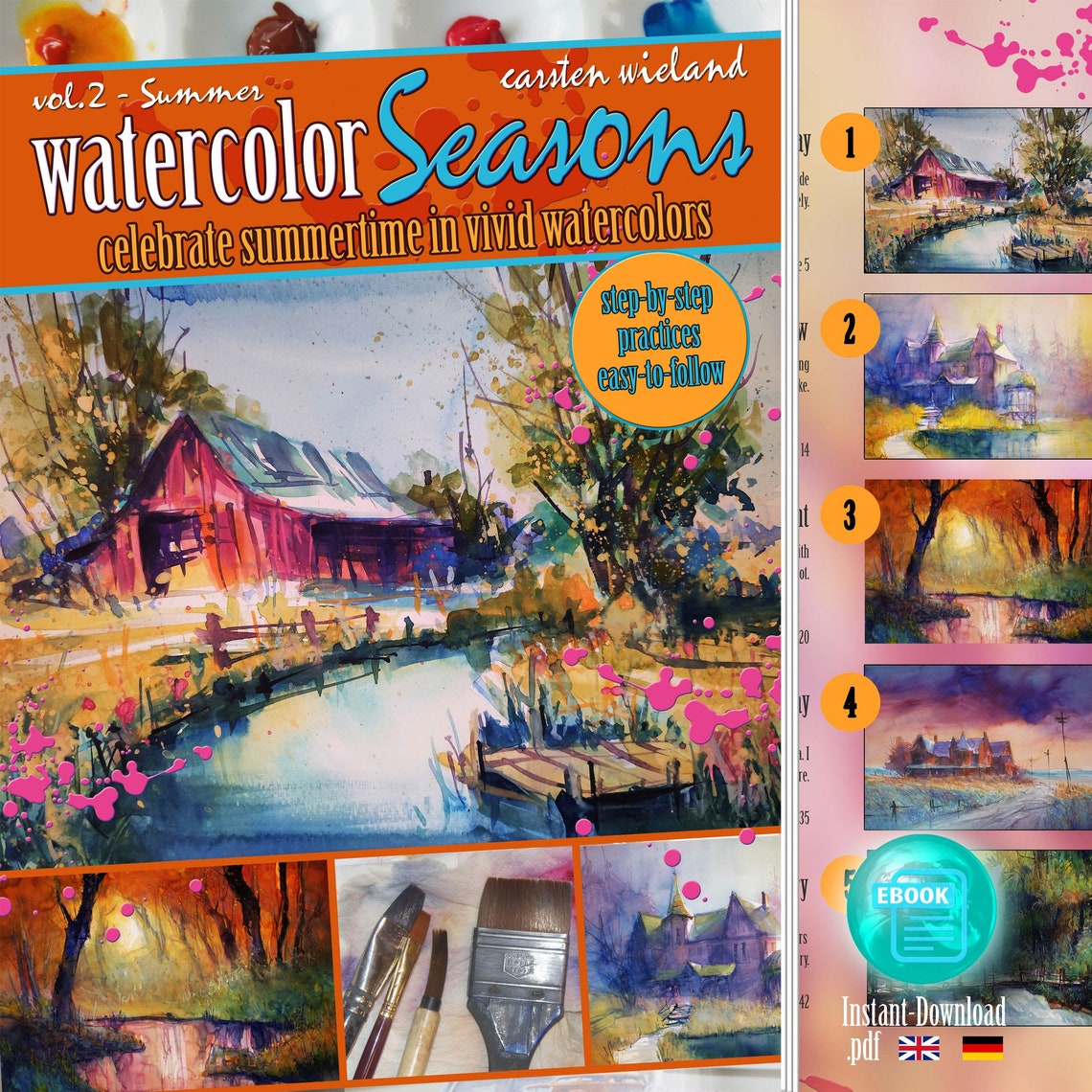 Brandneu in meinem Etsy Shop!
eBook Aquarell Saison Vol2 Sommer – Den Sommer in lebendigen Aquarellen zelebrieren – Tutorial 50 Seiten pdf – Schritt für Schritt
https://www.etsy.com/de/listing/981290913/ebook-aquarell-saison-vol2-sommer-den?ref=shop_home_active_1

Benutzen Sie den Coupon Code HAPPYPAINTING20, um 20% auf alle Artikel zu sparen – gültig bis 22.März 2021.

Diese leicht verständlichen Schritt-für-Schritt-Anleitungen feiern die Sommersaison in lebendigen Aquarellen. Die Übungen haben eine klare Struktur, um allen von Anfang an Spaß am reinen Aquarell zu garantieren. Beginnen Sie mit einfachen Aufwärmübungen, um schnell beeindruckende und farbenfrohe Aquarelle zu erstellen, und tauchen Sie später in ein anspruchsvolleres Malprojekt ein. Enthält 4 Kapitel mit schrittweisen Tutorials, nützlichen Tipps und Hinweisen zu Kunstmaterialien und wie Sie mit Skizzen Ihr Aquarellprojekt planen können, Tipps im Freien und eine Galerie mit mehr Inspiration für Ihre nächsten Sommeraquarelle. Viel Spaß beim Malen!
Sofortiger Download eBook pdf 50 farbenfrohe Seiten in englischer oder deutscher Version – 4 Kapitel mit leicht verständlichen schrittweisen Aquarell-Übungen, praktischen Informationen zu Materialien und Techniken und einer inspirierenden Galerie. Laden Sie die LowRes-Version sofort herunter, um sie direkt auf Ihrem elektronischen Gerät anzuzeigen. Außerdem ist eine druckbare HighRes-Version verfügbar.