This is one of my very favorite spots in the town of Marburg. It is called "Grüner Wehr" and te shown building is a former mill but now a restaurant. As kids we played down there at the river and when I visited Marburg a few years ago I realized that it is still the same today – almost 50 years later.
I just released my new eBook tutorial "Watercolor Seasons Vol1 Spring". I would be happy about your support. You can get your copy – available in English and German – in my Etsy store.
These easy-to-follow step-by-step tutorials celebrate the spring season in vivid watercolors. The practices have a clear structure to guarantee pure watercolor fun for everybody just from the start. Start with easy warm-ups creating impressive and colorful watercolors quick and dive into a more challenging painting project later. Including 4 chapters with step-by-step tutorials, useful tips and hints about art materials and the sprinkle technique and a gallery with more inspiration for your next spring watercolors. Happy Painting!
eBook Watercolor Seasons Vol1 Spring – Celebrate Spring in vivid watercolors – Tutorial 60 pages pdf – Easy to follow – step by step
Dies ist einer meiner Lieblingsorte in der Stadt Marburg. Er heißt "Grüner Wehr" und das gezeigte Gebäude ist eine ehemalige Mühle, heute aber ein Restaurant. Als Kinder haben wir dort unten am Fluss gespielt und als ich vor ein paar Jahren Marburg besuchte, wurde mir klar, dass es heute noch genauso ist – fast 50 Jahre später.
Soeben ist mein neues eBook "Aquarell Saison Vol1 – Frühling" erschienen. Über Eure Unterstützung würde ich mich sehr freuen. Eure Kopie – sowohl in Deutsch als auch Englisch – ist jetzt in meinem etsy Shop erhältlich.
Diese leicht verständlichen Schritt-für-Schritt-Anleitungen feiern die Frühlingssaison in lebendigen Aquarellen. Die Übungen haben eine klare Struktur, um jedem von Anfang an Spaß am puren Aquarell zu garantieren. Beginnen Sie mit einfachen Aufwärmübungen, um schnell beeindruckende und farbenfrohe Aquarelle zu erstellen, und tauchen Sie später in ein anspruchsvolleres Malprojekt ein. Enthält 4 Kapitel mit Schritt-für-Schritt-Anleitungen, nützliche Tipps und Hinweise zu Kunstmaterialien und der Spenkeltechnik sowie eine Galerie mit mehr Inspiration für Ihre nächsten Frühlingsaquarelle. Viel Spaß beim Malen! Happy Painting!
eBook Watercolor Seasons Vol1 Spring – Celebrate Spring in vivid watercolors – Tutorial 60 pages pdf – Easy to follow – step by step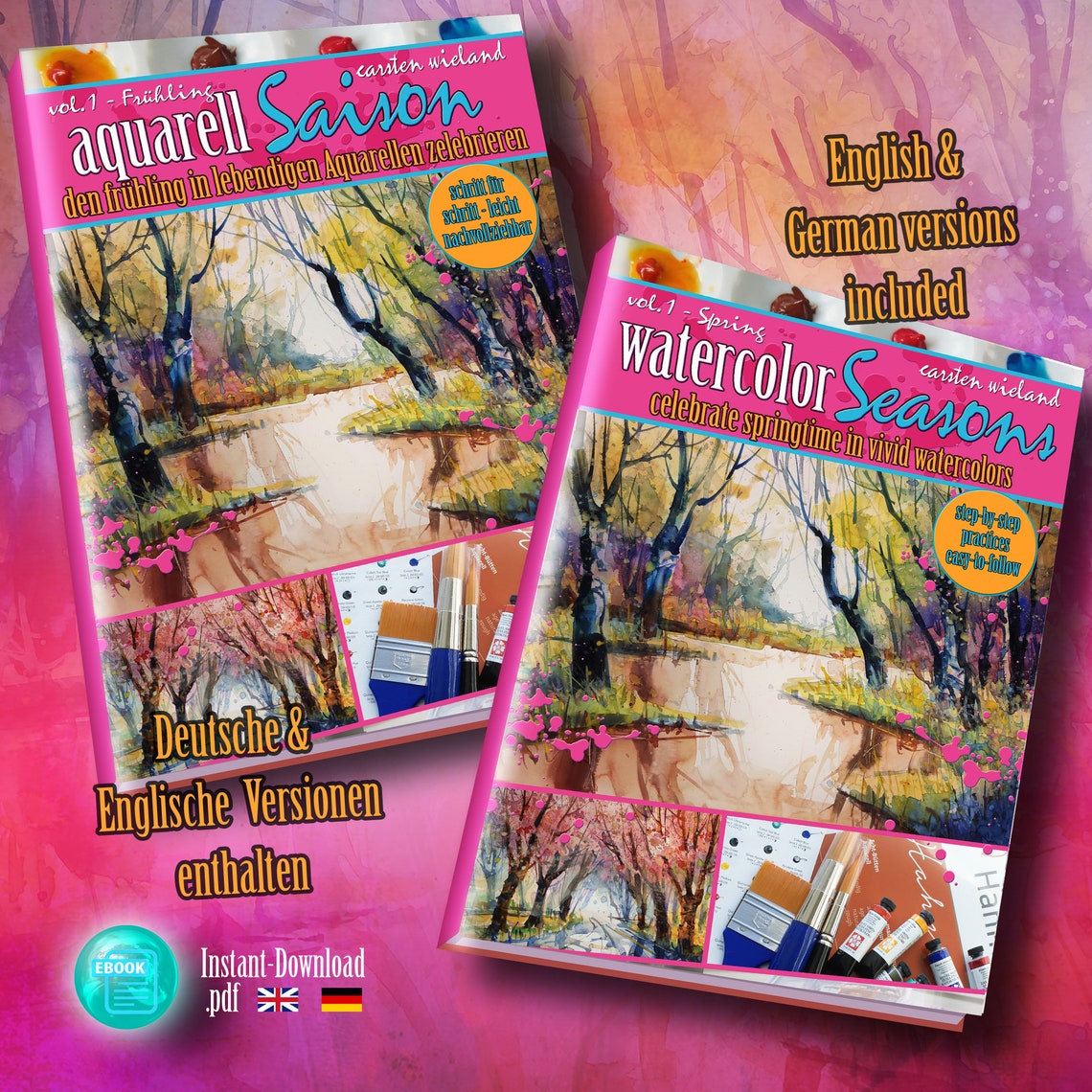 eBook Watercolor Seasons Vol1 Spring – Celebrate Spring in vivid watercolors –