Another watercolor from my favourite old town in Germany – Marburg. Today I´d like to show you my watercolor of the St. Elizabeth's Church and some of the pre-works I have done before I started the final watercolor.
The church is one of the earliest purely Gothic churches in German-speaking areas, and is held to be a model for the architecture of Cologne Cathedral. It is built from sandstone in a cruciform layout. Construction started in 1235, the year Elizabeth was canonized. The church was consecrated in 1283. However, the towers were not finished until 1340. Read more about the history here: https://en.wikipedia.org/wiki/St._Elizabeth%27s_Church,_Marburg
Ein weiteres Aquarell aus meiner Lieblingsaltstadt in Deutschland – Marburg. Heute möchte ich Euch mein Aquarell der St. Elisabeth Kirche und einige der Vorarbeiten zeigen, die ich gemacht habe, bevor ich mit dem endgültigen Aquarell angefangen habe.
Die Kirche ist eine der frühesten rein gotischen Kirchen im deutschsprachigen Raum und gilt als Vorbild für die Architektur des Kölner Doms. Sie ist aus Sandstein in kreuzförmiger Anordnung gebaut.
Der Bau begann im Jahr 1235, dem Jahr, in dem Elisabeth heilig gesprochen wurde. Die Kirche wurde 1283 geweiht. Die Türme wurden jedoch erst 1340 fertiggestellt.
Mehr über die Geschichte findet Ihr hier:
https://de.wikipedia.org/wiki/Elisabethkirche_(Marburg)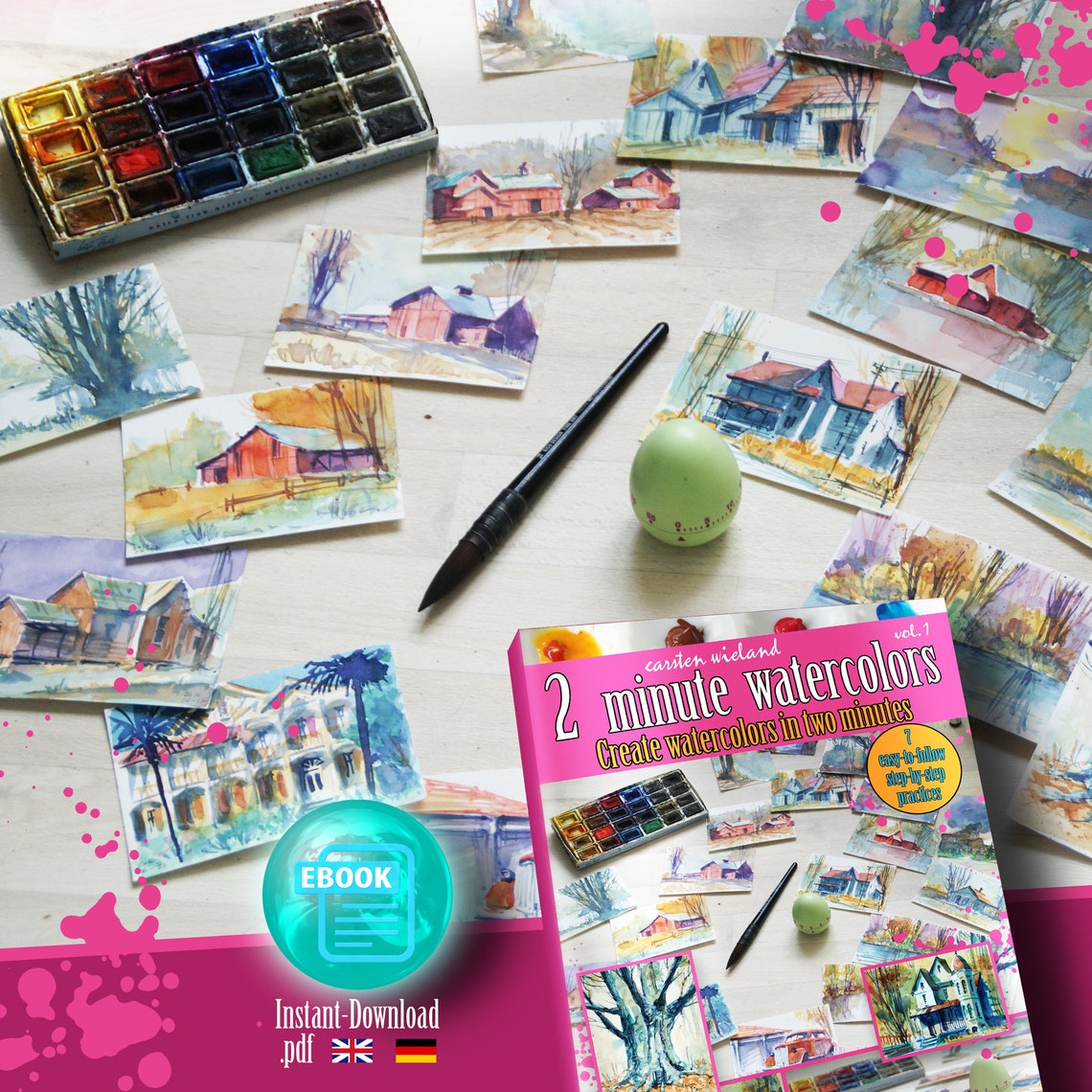 eBook 2 Minute Watercolors – Create watercolors in two minutes – Tutorial 46 pages pdf – Instant Download – Easy to follow – step by step https://www.etsy.com/de/listing/950751639/ebook-2-minuten-aquarelle-male-aquarelle?ref=shop_home_feat_4