I am so happy to announce my 2nd eBook release on Etsy.
eBook Collage-Art "Please Do Not Bend" – Instant Download – English/Deutsch / in pdf format
Author/Artist: Carsten Wieland
Historical personalities from the 19th and early 20th centuries, depicted in elaborate collages and clever quotes, are gathered in this book, which was created at the beginning of the Covid crisis in the isolation of my studio. In addition to famous celebrities such as Mark Twain, Edgar Allen Poe or Sarah Bernardt, there are also less well-known but by no means less interesting personalities gathered here, which I came across by accident during my research.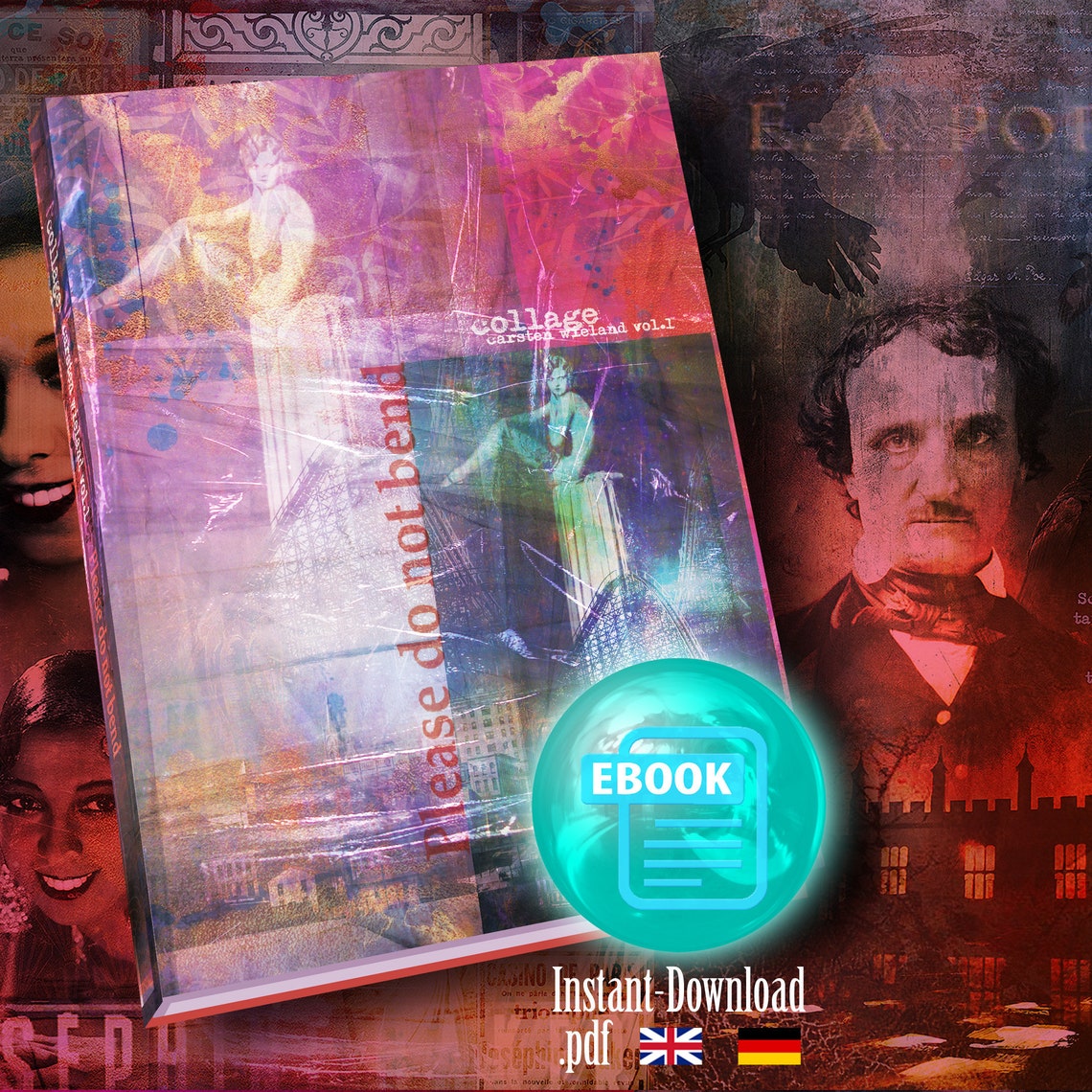 Content: 112 colorful pages featuring art-collages and quotes of: Marie Curie, Mark Twain, Josephine Baker, Buster Keaton, Miss Julia Emory, Edgar Allen Poe, Anna May Wong, Jules Verne, Gustave Eiffel, Victoria Woodhall, Gloria Swanson, Alfred Döblin, Ma Rainey, Walt Whitman, Orville Wright, Mata Hari, Eadweard Muybridge, Cleo de Merode, Nadar, Sarah Bernhardt, Wilhelm Röntgen, Winsor McCay, Charlie Parker, Arlette Dorgere, Louis Daguerre, Fritz Lang, Harold Lloyd, Julia Marlowe, Käthe Kollwitz, Lewis Carroll, Evelyn Nesbit, Thomas Alva Edison, Fanny zu Reventlow, George Sand, Elsie Ferguson, Camille Clifford, P.T.Barnum, Katherine Anne Porter, N.C.Wyeth, Genevieve Lantelme, Douglas Fairbanks Sr., Mary Pickford, Anna Held, Florenz Ziegfeld, Wilhelm Busch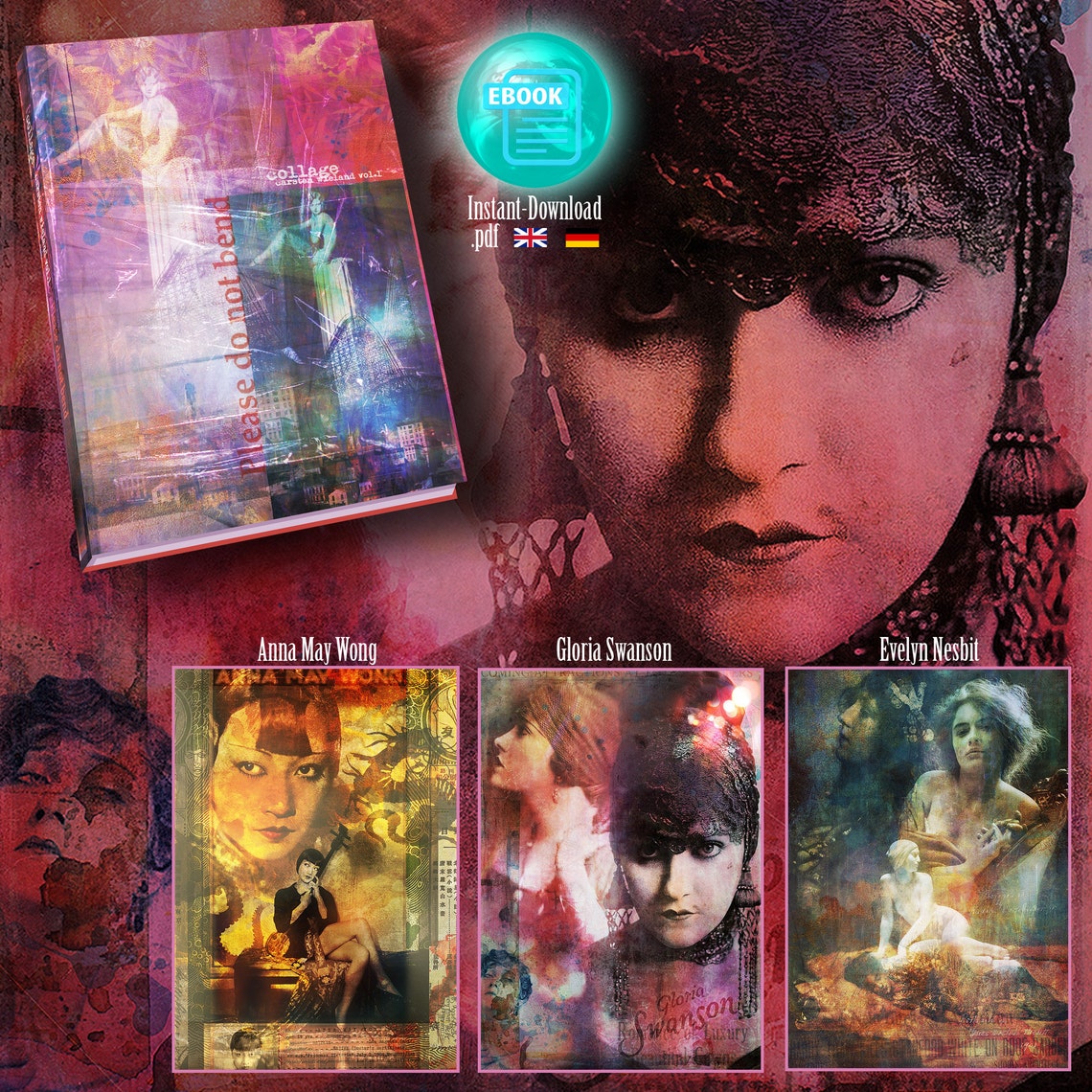 Ich freue mich, Euch meine zweite eBook Veröffentlichung auf Etsy verkünden zu können:
eBook Collage-Kunst "Please Do Not Bend" – Instant Download – English/Deutsch / im pdf format
Historische Persönlichkeiten des 19. und frühen 20. Jahrhunderts, dargestellt in kunstvollen Collagen und klugen Zitaten sind in diesem Buch versammelt, das zu Beginn der Coronakrise in der Isolation des eigenen Ateliers entstanden ist. Neben Berühmtheiten wie Mark Twain, Edgar Allen Poe oder Sarah Bernardt sind auch weniger bekannte, aber keinesfalls weniger interessante Persönlichkeiten hier versammelt, auf die ich mehr oder weniger zufällig bei meinen Recherchen gestoßen bin.
Autor/Künstler: Carsten Wieland
Inhalt: 112 farbige Innenseiten mit kunstvollen Collagen und Zitaten von: Marie Curie, Mark Twain, Josephine Baker, Buster Keaton, Miss Julia Emory, Edgar Allen Poe, Anna May Wong, Jules Verne, Gustave Eiffel, Victoria Woodhall, Gloria Swanson, Alfred Döblin, Ma Rainey, Walt Whitman, Orville Wright, Mata Hari, Eadweard Muybridge, Cleo de Merode, Nadar, Sarah Bernhardt, Wilhelm Röntgen, Winsor McCay, Charlie Parker, Arlette Dorgere, Louis Daguerre, Fritz Lang, Harold Lloyd, Julia Marlowe, Käthe Kollwitz, Lewis Carroll, Evelyn Nesbit, Thomas Alva Edison, Fanny zu Reventlow, George Sand, Elsie Ferguson, Camille Clifford, P.T.Barnum, Katherine Anne Porter, N.C.Wyeth, Genevieve Lantelme, Douglas Fairbanks Sr., Mary Pickford, Anna Held, Florenz Ziegfeld, Wilhelm Busch